Photo Album: Three Days of Terror: State Forces Crack Down on Garment Factory
On Thursday, January 2, 2014, Special Command Unit 911 violently cracked down on demonstrating garment factory workers near South Korean/U.S.-owned Yak Jin factory in the Pursenchey district of Phnom Penh, using knives, pipes, slingshots, batons and high-powered rifles, including AK-47 machine guns, to intimidate and injure civilians. The next day, state authorities used live ammunition to clear out the Canadia Industrial Area on Veng Sreng Road of civilians, resulting at least four civilian deaths and 38 hospitalized, 25 of whom suffered from bullet wounds. On Saturday, January 4, authorities then drove out CNRP supporters, including monks, women, and children, from Freedom Park with batons and metal rods. Amidst the chaos, state forces prevented media and rights workers from entering the park.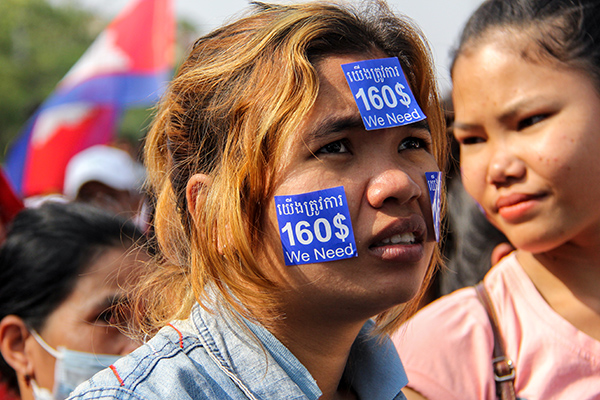 A female garment worker joins a peacefully rally in front of the Ministry of Labor on December 28, 2013 demanding a monthly living wage of $160. Ninety percent of garments workers in Cambodia are women.