Cambodian Village Chief Jailed in Land Dispute with Private Company
Published on : 2009-09-29 00:00:00
http://www.licadho-cambodia.org/articles/20090929 00:00:00/99/index.html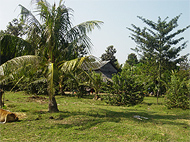 The disputed land in Lor Peang village
On August 27, 2009, the Phnom Penh municipal court sentenced Toch Ly, a village chief from Kompong Chhnang, to 16 months imprisonment after she was found guilty of forging thumbprints in an ongoing land dispute. She was also ordered to pay a fine of 1 million riel (USD$250) and compensation of 5 million riel (USD$1250) to the private company KDC International. Toch Ly was accused of forging a thumbprinted document in which 77 families denied that they sold their land to KDC International. The company is owned by Chea Kheng, the wife of Suy Sem, the Minister of Industry, Mines and Energy. Despite testimony from community members supporting the authenticity of the document, the court ruled that some of thumbprints did not belong to the people named on the document, but were instead made by their relatives.

Land Dispute Background
The case originated from a land dispute between 108 families in Lor Peang village, Ta Ches commune, Kompong Chhnang province and KDC International. The villagers have lived on the land since 1982, but KDC International claims to have purchased the area in 1996 from Thai Hy, a Ta Ches commune council member. Thirty-one families have agreed to sell their land to KDC International, but 77 families continue to refuse. Despite the unresolved ownership dispute, KDC International demanded in 2007 that the holdout villagers cease farming the land.

Arrests and Land Clearing
On November 22, 2007, Lor Peang community representative Sar Song and villager Oun Sum were arrested without warrants and imprisoned. The provincial court charged Sa Song with attempted murder stemming from an apparent personal conflict that occurred in March 2007. Oun Sum was charged with trespassing on private property.

In February 2008, Oun Sum was sentenced to 18 months imprisonment and Sar Song was sentenced to 10 years imprisonment. Oun Sum was released from prison on May 22, 2009, after serving her full sentence, while Sar Song remains in prison.

On January 9, 2008, approximately 50 police officers, led by provincial police deputy chief Prak Vuthy and Kompong Tralach district police chief Mouv Sokhom, destroyed plantations belonging to 14 families in Lor Peang village. The two men are perceived by the community as being "representatives" of KDC International.

Targeting of Toch Ly
On May 28, 2008, the National Authority of Land Dispute Resolution (NALDR) led by Pal Chandara, conducted a meeting with the provincial deputy governor, the district governor, the head of the cadastral commission and Toch Ly, who represented the 77 families. The meeting was convened in order to investigate the background of the land dispute and to find a suitable resolution. During the meeting, Pal Chandara recommended that Toch Ly make a list of those villagers who claimed to have not sold their land to KDC. As requested, Toch Ly compiled the list and collected thumbprints from the 77 families. She submitted it to the provincial authorities on July 30, 2008,

On October 29, 2008, Chea Kheng filed a complaint accusing Toch Ly of forging the thumbprints of the 77 families. On March 16, 2009, Chea Kheng filed a second complaint, this time to the Ministry of Justice and Mok Chito, head of the Ministry of Interior's criminal police division, asking that the complaint be heard in the Phnom Penh municipal court and not Kompong Chhang provincial court. The motive for the transfer request is unclear, however it is believed that Chea Keng did not want the case to be held at Kompong Chhnang court for fear of a large number of villagers attending the public trial.

Consequently, on April 8, 2009, the case was transferred to Phnom Penh municipal court and on April 23, 2009 Mok Chito invited Toch Ly to meet with him in Phnom Penh. While waiting for the meeting at the Ministry of Interior, Toch Ly was arrested and charged with forging the villagers' thumbprints. She was convicted on August 27, 2009.

On September 23, 2009, Toch Ly appealed the August 27 conviction. No hearing date has been set.

Further Intimidation
In August 2009, Un Sophy, another Lor Peang community representative, was summoned to appear before the Phnom Penh municipal court to answer allegations that she incited the 77 families to continue farming on the dispute land. Un Sophy did not attend the September 23, 2009 court date for fear that she might be arrested and jailed.

LICADHO condemns the continued use of criminal charges to intimidate and imprison community members, particularly in the course of land disputes between citizens and private companies.